CHRISTMAS SHOULD BE THE MOST WONDERFUL TIME OF THE YEAR, BUT FOR THE WOMEN, CHILDREN, AND FAMILIES WE SUPPORT, CHRISTMAS CAN BE A TIME OF ISOLATION, FEAR, AND ABUSE.
Over the Christmas period in December 2022, Cardiff Women's Aid was in contact with 727 women, 101 children and young people and supported as well as receiving 69 referrals to refuge. All of whom were affected by domestic abuse, sexual violence and violence against women.
Like many this year, we have been affected by the cost of living crisis and the cost to keep our refuges warm has become a serious concern. With our energy bills more than doubled and our statutory funders unable to offer any help it's a big worry, these increasing bills could have a knock on effect to the services we provide.
However with your support, you can help give Women, Children, and Young People a Warm &
Safe Christmas this year.

HERE'S HOW YOU CAN GET INVOLVED
Download our Christmas Fundraising Pack with ideas and resources to put on a Christmas themed office Olympics, festive fancy dress day or a Christmas themed quiz! You can download our pack here.

DONATE A WARM & SAFE CHRISTMAS
Your Donations are crucial to be able to support the services we provide, being able to buy essential items and especially this year to pay the increasing bills to keep our refuges warm for the women and children. By making a donation, you're making it possible for women and children affected by domestic abuse to have a Christmas to remember.
WHAT YOUR DONATION COULD HELP ACHIEVE…
Could provide a survivor of domestic abuse with an "Own My Life Journal" to support her recovery plan.
Could pay for 3 one-hour therapy sessions for a survivor of domestic abuse or sexual violence.
Could provide a child living in refuge with brand new pyjmas, toiletries, a toy, and books.
Could pay for a child affected by domestic abuse and sexual violence to recieve 10 one-to-one support sessions with our CYP team.
Could cover the costs of one night in a warm, safe and secure refuge for a woman in crisis.
Could cover the running costs of The Rise Cardiff helpline for 24 Hours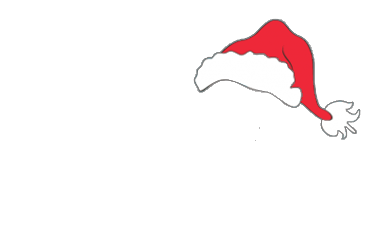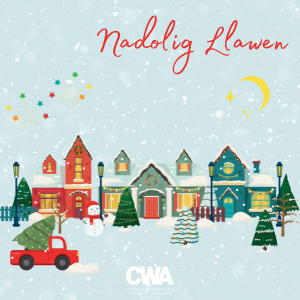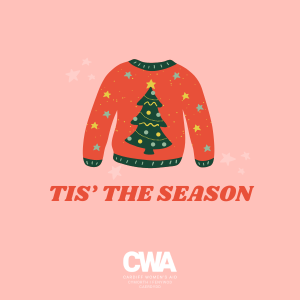 DONATE THE COST OF YOUR CHRISTMAS CARDS
Wish your customers, clients, partners, friends or family a Merry Christmas and Nadolig Llawen with our special designed e-cards with Don't Send Me a Card. You can donate the cost of your Christmas cards and stamps to Cardiff Women's Aid when you send an e-card through dontsendmeacard.com.
If you would like to partner with and create a custom dual-branded Christmas cards for your business in exchange of a donation please email fundraising@cardiffwomensaid.org.uk for more information.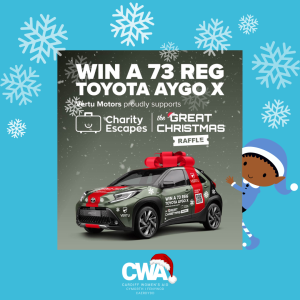 ENTER OUR CHRISTMAS RAFFLE!
We've partnered with Charity Escapes again this year to offer you the chance to win a 73 Reg Toyota Aygo X! With tickets only £5 this could make a great Secret Santa or a treat to yourself!
You can even bulk buy raffle tickets to gift to staff, customers or clients – email fundraising@cardiffwomensaid.org.uk for more information.

GET YOUR FUNDRAISING TO US
You can donate through opening your own Just Giving page here Your donations and Gift Aid will be transferred to us automatically, without you having to do anything!

You can pay in your fundraising through our

Donorfy link here

, remember to tell us about your fundraising activities in the comment box so we can send you a thank you email or letter.

If you would like to make a donation via cheque, please make them payable to Cardiff Women's Aid Ltd and send them in a sealed envelope with a letter including your details and the reason of your donation to: Fundraising Team, 50 Meteor Street, Cardiff, CF24 0HE.

YOUR SUPPORT MAKES A HUGE DIFFERENCE TO THE WOMEN, CHILDREN, AND FAMILIES WE SUPPORT.
We'll be here to support you at every step of your fundraising journey. Get in touch with us for help, advice, fundraising materials or a chat by emailing fundraising@cardiffwomensaid.org.uk
STAY UP TO DATE WITH OUR NEWSLETTER
Sign up to our fundraising newsletter to keep up to date with all things fundraising at Cardiff Women's Aid. It is a quarterly newsletter including upcoming campaigns, the impact your support has had, an overview of some of the great fundraising events you have put on and most importantly, an opportunity to thank you all for your continued support of women and children who have experienced abuse and violence in Cardiff. To stay up to date, click the link below and select 'fundraising'.
We are registered with the Fundraising Regulator to ensure our fundraising is open, honest and legal.